So I've been told I need to clear out some of the junk at my flat, since it's getting to be a bit too much.
Some of it is going on trademe (as much as I hate their fees, I don't have time to write an auction application ATM), there will be some pretty decent stuff such as rackmount servers (IBM Xseries, HP Proliant), computer components (Lian Li, Vantec, lots of RAM), widescreen LCD displays and more. It may take me a few days to list everything, so check back or add me to your favourite sellers list on Trademe. :-)
Listings are across two different accounts, depending if they are personally owned or company owned:
Anything that I can't be bothered selling or isn't worth much, is going up here and it's a case of going to the first person who asks me nicely enough whom I don't hate ;-)
It's pickup only, unless otherwise noted.
1. HP Pavilion 4422 Computer
Celeron 422mhz
192MB SDRAM
Disk1: 20 GB IDE Disk
Disk2: 160GB IDE Disk
Disk2: Optical DVD-/CD-RW
Disk3: Floppy (how quaint!)
Small form factor
1x PCI 100mbit card
1x PCI 1gigE card
It still runs, it's been going since 1999 pretty much non-stop, the past few years it's been a firewall, although I'm starting to suspect the PSU might be a little unstable, hence it's removal.
Runs older Linux versions nicely. Free to a good home – I can even chuck in a keyboard and mouse for you.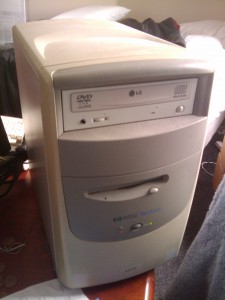 2. Belkin UPS
This is a pretty large desktop UPS (IIRC 500VA) that just suddenly stopped working one day –  I suspect that a fuse or a capacitor may have died – anyone with some electronics clue should be able to fix it.
It always kind of annoyed me since it was a pain to manage on non-windows platforms, so I've replaced it with a nice APC unit.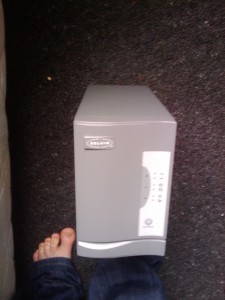 3. 7x UltraSCSI disks
I believe these are all 18.2GB disks, but there may be some 9GB ones floating around. They should all work and I'll throw in two proliant chassis mounts.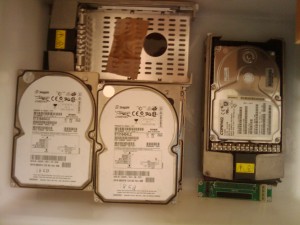 4. Linux Mandrake 6.2
Anyone want a piece of history? Early Linux boxset from the times when boxsets were the cool thing todo.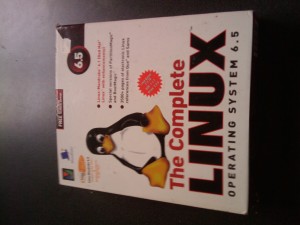 5. HP Proliant DL380 G3
I have a Proliant DL380 G3 which is faulty and will randomly reboot…. not sure of the cause, other than it's not a PSU or memory fault – could potentially be a CPU or mainboard problem.
2U rackmount server
2x Xeon Processers
2GB DDR RAM
2x 18.2GB UltraSCSI 320 disks
Rackmount Rails
6. PCMCIA Hardware Dialup Modems
If you're unfortunate enough to be using dialup modems, these can be yours. They're full hardware modems which means Linux support FTW :-)