With all the travel that lisa and myself will be doing over the next few months, I've ended up booking a lot of flights – first set for October travel to AU, second for January travel to AU for linux.conf.au and third for Auckland to Wellington flights for Lisa thanks to the news of her new job up there. :-)
Every time I've gone to book Air New Zealand flights, I've been disappointed in their new website – it seems every time I use it, they add some annoying feature to mess with my head.
It's not the first time I've had issues with the IT systems developed by Air New Zealand, I suspect they must have fired their UAT team in order to save money to compete with budget airlines, like Jetstar. Whom I might add, have a website that *actually works*.
And a while ago they introduced the delightful credit card surcharge… whilst offering no alternative other than the complete disgraceful Active-X only POLi plugin for "online banking".
Plus there's the lovely travel insurance option which is always on by default, despite me never, ever, wanting to use it, just waiting for me to miss one day and incur some extra fees.
But let's ignore all these failings and take a look at some of the wonderful new features introduced by Air New Zealand's wonderful team recently.
I booked a flight a couple months before –  it seems the site has undergone a number of minor UI changes- the most noticable would be the changes to the front homepage.
And what better way to welcome customers than with a booking window that *vanishes*.:
And the delightful hanging loading screen – this seems to have 1/5 of any page request I make, the browser loads some elements then spends time in a javascript hang-  this is with the Chromium browser, which has never had an issue with airnz before, nor any other javascript.
But the most offensive failing of all, worse than the meal failings, POLi banking, credit card surcharges, insurance addons and hanging pages, was the opt-out specials mailing list, being selected by default:
Now under New Zealand anti-spam legalisation, I belive would technically be illegal, since I'm not giving express consent to contact me, instead AirNZ is signing me up to a mailing list – but it's a little murky.
You end up getting an email if you leave it ticked, asking if you want to join the list, to confirm the subscription, so it's not as bad as being added to a list, but still annoyed the fuck out of me.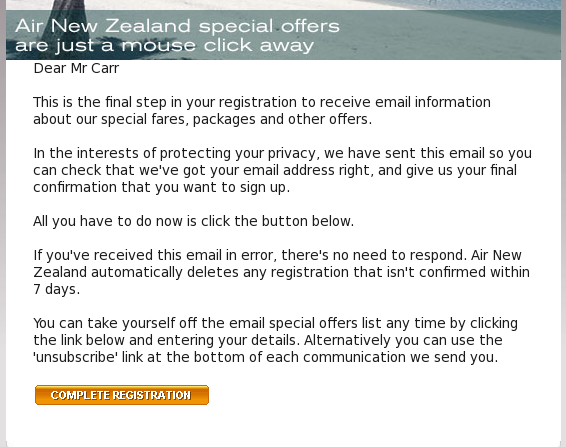 Not particularly impressed by Air New Zealand yet again – they pretty much have only one thing going for them, and that is they do still fly when there are issues like ash clouds, even if it means extra fuel costs to run at non-typical altitudes, whereas Jetstar discontinued flights when that happened leaving people stranded.
If it wasn't for that, I'd see no reason to ever fly with them, the budget airlines do better deals, have just as good planes, actually get meals right and don't fuck up their site all the time.