Coming back to New Zealand from Australia, I was faced with needing to pick a telco to use. I've used all three New Zealand networks in the past few years (all pre-4G/LTE) and don't have any particular reason/loyalty to use any specific network.
I decided to stay on the 2degrees network that I had parked my number on before going to Sydney, so I figured I'd put together a brief review of how I've found them and what I think about it so far.
Generally there were three main incentives for me to stay on 2degrees:
AU/NZ mobile or landline minutes are all treated equally. As I call and SMS my friends and colleagues in AU all the time, this works very nicely. And if I need to visit AU, their roaming rates aren't unaffordable.
All plans come with free data sharing between devices – I can share my data with up to 5 devices at no extra cost. Laptop with 3G, tablet, spare phone? No worries, get a SIM card and share away.
Rollover minutes & data – what you don't use in one month accrues for up to a year.
And of course their pricing is sharp – coming into the New Zealand market as the underdog, 2degrees started going after the lower end prepay market, before moving up to offer a more sophisticated data network.
For $29, I'm now getting 1GB of data, 300 minutes AU/NZ and unlimited SMS AU/NZ. But also received an additional once-off bonus of 2GB data for moving to a no-commitment plan and another 200MB per month as a bonus for my data shared device; it's insanely good value really.
Of course good pricing and features aren't any good if the quality of the service is poor or the data-rate substandard. 2degrees still lack 4G/LTE in Wellington (has just been introduced in Auckland) which is going to set them back a bit, however they do still deliver quite a decent result.
Performance of my 1 year old Samsung Galaxy Note 2 (LTE/4G model operating on 3G-only network) was good with a 22.16 Mb/s download and 2.56 MB/s upload from my CBD apartment. It's actually faster than the apartment WiFi ISP provider currently. (Unsure why the ping below is so bad, it's certainly not that bad when testing… possibly some issue with the app on my device).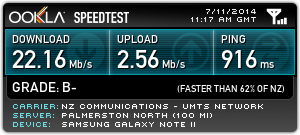 It does pay to have a good device – older devices aren't necessarily capable of the same speeds, the performance with my 4 year old Lenovo X201i with Qualcomm Gobi 2000 built-in 3G hardware is quite passable, but it's not quite the speed demon of my cellphone at only 6.16 Mb/s down and 0.36 Mb/s up. Still faster than many ADSL connections however, I was only getting about 4 Mb/s down in my Sydney CBD apartment recently!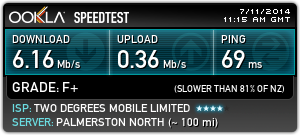 Whilst I haven't got any metrics to show, the performance outside of the cities in regional and rural areas is still reasonable. 2degrees roams onto Vodafone for parts of their coverage outside the main areas, which means that you need to make sure your phone/device is configured to allow national data roaming (or you'll get *no* data coverage), and it also means you're suspectable to Vodafone's network performance, which is one of the worst I've used (yes AU readers, even worse than Vodafone AU).
Generally the performance is perfectly fine for my requirements – I don't download heaps of data, but I do use a lot of applications that are latency and packet loss sensitive. I look forwards to seeing what it's like once 2degrees get their LTE network in Wellington and I can get the full capability out of my phone hardware.
2degrees is also trailing a service of offering free WiFi access – I'm in the trial and have been testing, generally the WiFi is very speedy and I was getting speeds of around 21 Mb/s down and 9 Mb/s up whilst walking around, but it's let down by the poor transition that Android (and presumably other vendors) make when moving between WiFi and 3G networks. Because the WiFi signal hangs on longer than it can actually sustain traffic, it leads to small service dropouts in data when moving between the two networks – this isn't 2degrees' fault, rather a limitation of WiFi and the way Android handles it, but it reflects badly on telco hybrid WiFi/GSM network approaches.
It's not all been perfect – I've had some issues with 2degrees, mostly when using them as a prepay provider. The way data is handled for prepay differs to on-plan, and it's possible to consume all your available data, then eat through your credit without any warning, something that cost me a bit more than I would like a couple of times when on prepay.
This is fixed with on-plan, which gives you tight spend control (define how much you want to cap your bill at) and also has a mode that allows you to block non-plan based data spend, to avoid some unexpected usage generating you an expensive bill. I'd recommend going with one of their plans rather than their prepay because of this functionality alone, not to mention that the plans tend to offer a bit better value.
On the plus side, their twitter support was fantastic and sorted me out with extra data credit in compensation. Their in-store support has also been great, when I went to buy an extra SIM ($5) to data share to my laptop, the guy at the counter told me about a promotion, gave me a free SIM and chucked 200MB/month on it, all that I wasn't expecting.
It's a nice change, generally telco customer service is some of the worst examples around, so it's nice to have a positive interaction, although 2degrees do need to make an effort to stop having certain spend protections limited to their plan customers and not prepay – A good customer service interaction is nice, but not having to talk to them in the first place is even better.
So how do I find 2degrees compared to the other networks? I've found NZ networks generally a mixed bag in the past – Telecom XT has been the best performing one, but I've always found their pricing a bit high and Vodafone is just all round poor in both customer service and data performance. With the current introduction of 4G/LTE by all the networks, it's a whole another generation of technology and what's been a good or bad network in the past, may no longer apply, but we need to wait another year or so for the coverage and uptake to increase to see how it performs under load.
For now the low cost and free data sharing of up to 5 devices will keep me on 2degrees for quite some time. If someone else was paying, maybe I'd consider Telecom XT for the bit better performance, but the value of 2degrees is too good to ignore.
Like anything, your particular use case and requirements may vary – shop around and see what makes sense for your requirements.