Wow, been so busy socialising and being outside I haven't had time to blog post for the last few days… the horror! Currently sitting at Melbourne, waiting for NoFlyAirNZ to arrive 40mins late so catching up on posts….
My second day in Hobart was actually really a trip over all different parts of Tasmania – started off in Hobart, but headed up into the highlands, visited hydrodams and took a long scenic route to get to Launceston to meet my twitter friends IRL.
We started the day with a visit to the Cupping Room, a very excellent coffee roastery that I'll blog about in more detail in tomorrow's post. After filling up on delicious caffinated fuel, we headed off into the wilds of Tasmania.
@chrisjrn planned a route around the state that involved taking me through the hydroelectric dam areas, the highlands, many dirt roads and the reservoir lakes used by the dams.
The hydroelectric power stations themselves are actually not that large compared to the huge pipes running to them – I managed to get a picture of the pipes running down the side of a valley to one of the many stations:
After seeing the dams, we headed up into the highlands where there are heaps of large lakes feeding water to the dams – I believe most of the lakes were originally around, but extended and enlarged for the needs of the dams.
It's pretty barren up there, but a number of holiday homes/batches around, apparently there's some decent fishing to be had.
We made it to Launceston in the afternoon, to meet my twitter friends @stumbeline, @kestra and @Wordy_Anansi for the first time IRL, which was awesome.
There was some time to kill, so we detoured to Cataract Gorge which seems to be a very popular swimming area – probably helped by the 30 degree sunny day :-/
After crossing the mighty bridge of almost certain death, I headed over to meet with @Wordy_Anansi, who had made a huge amount of vege food deliciousness for us.
With the addition of wine, we had a fantastic evening and it was awesome to meet so many great tweeple IRL for the first time. :-)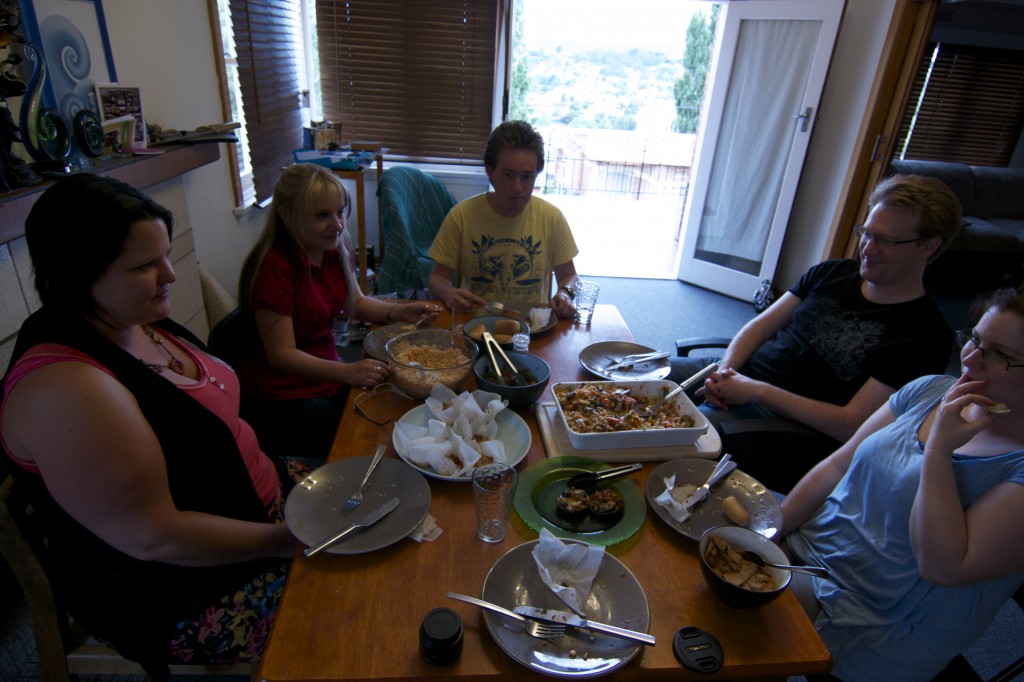 @stumbeline, @kestra, @jethrocarr (duh), Mark (not on twitter) and @Wordy_Anansi