People generally want to say thanks when others do them a favor, it's pretty common we shout someone a beer or a coffee, but it's hard to do this online – assuming that person can even take an online payment in the first place, the typical method has always been to have to complete a credit card payment transaction, which is time consuming and frustrating.
Generally people decide it's not worth the hassle for small amounts so content producers miss out, unless they're lucky enough to run into their fans at a conference. ;-)
There are many times I've wanted to shout someone a coffee for a good blog post, a hilarious web comic, or some awesome open source application that I use every day.
The concept isn't exactly new,the real issue is getting a micropayment system that doesn't take more than a couple clicks and which has enough of a critical mass of users and content producers to actually make it interesting to people.
Lately I've been seeing more and more Flattr buttons around on sites I read and on the home pages for a number of open source projects I'm a fan of.
Flattr has a clever solution to the micropayment problem by having a configurable monthly spend for  your account – say €5. This amount is then equally divided across all the sites you've Flattr'd that month minus 10% that goes to Flattr themselves.
This means you can just click away on things you love, without any unexpected bill shock and has a single monthly cost for all your content donations.
To Flattr someone, you just need to click their button and depending on the button type, it'll take you to Flattr to do a second click, or will just accept the first click.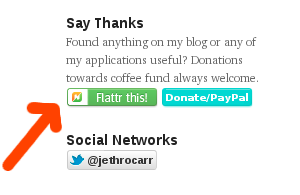 I decided to give it a go and setup an account myself, along with adding a static image to the widget bar of this website. I'm not a fan of hot linking to external providers, so I'm using a self-hosted static image, rather than some of the flashier javascript enabled Flattr buttons around. (The trade-off is less fanciness like click-count, but also no tracking by third party companies of my visitor stats or other information).
I also went and added a Donate/PayPal button for good measure – not that anyone ever *likes* having to use PayPal thanks to their horrible UX and their even more horrible business practices, but it is handy from time-to-time as it's pretty universal and they tend not to leak credit card details around the place.
So if you're a Flattr user, please feel free to make abundant use of my Flattr button and if you really really love sometime I wrote, feel free to use PayPal to send me some coffee money and get a blog review about some new cafe in return. ;-)
It's not a perfect solution, I think Flattr's fees are too high compared to conventional payment providers which are more around 2.5-3%, but supporting micro payment solutions like Flattr could just help ad-free, paywall-free internet content to flourish.